Gorakhpur To Janakpur Tour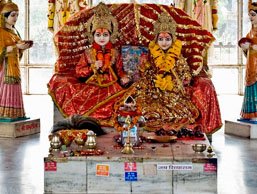 If any place is to be coined as the cultural capital of Nepal then it has to be Janakpur. It is also known as Janakpurdham. The name has found its way from the Hindu Epic Ramayana, where the king of this land was Janaka and his adopted daughter was Lady Sita, Lord Rama's consort. With so much infusion of religious sentiments, Janakpur is also the religious capital of Nepal.
The Janakpur Tour Package of Priyanka Tour & Travels Gorakhpur presents you one of the most spiritually enthralling trips of Nepal. The travelling through the city and giving titbits about the historical and religious significances of each and every place in Janakpur is what make this tour more educational. We book luxury hotel here and cater full course all day meal to the tourists. Some of the most famous sightseeing spots hare are the Nepal to India railway track, the Janaki Mandir of Lady Sita, the Dhanush Sagar and many more.
Gorakhpur Gorakhnath Tempal to Lumbini to Pokhra to Muktinath to Manokamna to Kathmandu to Janakpur to Gorakhpur
7 Night 8 Day Tour Package
DAY 1:— Gorakhpur to Lumbini to Pokhra night at Pokhara
DAY 02 & 03 :– Pokhra to Mukti Nath night at Jomsom
Day 04 – Pokhra full sightseeing
1. Bindhya Basini temple
2. Seti River
3. Mahendra Gufa
4. Bat cave
5. International museum
6. Phewa Tal (fewa lake)
7. Devi's fall
8. Gupteswar Gupha
Over night at hotel Pokhra
DAY 05:— Pokhra to Manokamna to Kathmandu over night at Kathmandu hotel.
DAY 06 – Kathmandu full Sightseen
1. Pashupati Nath temple
2. Bhaktapur
3. Rani Pokhari
4. Sanga
5. Budha Stupa
6. Nilakanth Budha
7. Swayambhunath temple
8. Narayanhity Palace Museum
9. Goheshwari Temple
OVER NIGHT AT HOTEL KATHMANDU
DAY 07:— Kathmandu to Janakpur night at Janakpur
Day 08:– Janakpur to Shashwat Dham to Gorakhpur drop.