Nepal Tour Package from Lucknow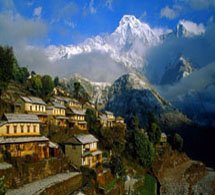 The Pokhara Valley is the other half of the famous Nepal Valleys. In this valley lies the most vibrant city of Nepal, Pokhara. This metro is quite the heart of the valley when your eyes are not bewitched by the mesmerizing mountain scape of the Himalayan range hovering over the valley. The city is full of life and the bustling market is a paradise for touring shoppers. The temples, monasteries, archeological site, the natural springs and lakes are the reason this Pokhara City is the tourism hub of Nepal.
Priyanka Tour & Travels Gorakhpur meticulously arranges the Pokhara Tour Package to offer tourists the best vacationing experience in this city. With elegant accommodations, delectable foods and insightful tour guidance we epitomize this trip. There are many attractive tourist spots in and around Pokhara City like the Phewa Lake, the Bindhyabasini Temple, the World Peace Pagoda, the Sei Gandaki River and of course the majestic vista of the Annapurna Himalayan Range.
Gorakhpur to Lumbini to Kathmandu to Manokamna to Pokhra to Gorakhpur
4 Night 5 Day Tour Package
DAY 01:— Gorakhpur 6:00 am pickup over night at Kathmandu hotel
DAY 02:— 6:00 am Kathmandu full sight seen
1. Pashupati Nath temple
2. Bhaktapur
3. Rani Pokhari
4. Sanga
5. Budha Stupa
6. Nilakanth Budha
7. Swayambhunath Temple
8. Narayanhity palace museum
OVER NIGHT AT HOTEL KATHMANDU
DAY 03:– – Kathmandu to Pokhra sight seen Manokamna Temple ( by cable car) over night at Pokhra hotel
DAY 04:— Pokhra full sight seen
1. Bindhya Basini temple
2. Seti River
3. Mahendra Gufa
4. Bat cave
5. International museum
6. Phewa Tal (Fewa Lake)
7. Devi's Fall
8. Gupteswar Gupha
Over night at hotel Pokhra
DAY 05:— Pokhra to Gorakhpur drop
Note – Extra charges applicable for Peace Pagoda and Sarangkot sunset Point.